Welcome to the wonderful world of needlepoint and needlepoint supplies from Stitch in Middleburg, Virginia.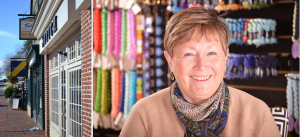 Stitch was recently purchased by one of its own customers, Marcy Harris, in October of this year.  Marcy is a long-time resident of Middleburg, raised three children here, and has been a customer of Stitch for many years.
Marcy has been working hard to reorganize the store, bringing in specialized hand-painted canvases, a full range of unique and vibrant thread fibers, needlepoint books, needlepoint accessories, expert finishing and much more!
Marcy has been a project manager at a large accounting firm, and while flying from job to job, she embraced a childhood passion of needlepoint handed down to her by her grandmother.
She has also started weekly needlepoint groups in which folks of all ages and abilities sit around the big table at Stitch while sharing their needlepoint knowledge and catching up.
Address & Directions:
122 W. Washington Street
Middleburg, Virginia
Phone:
(540) 687-5990
Email:
marcy@stitchmiddleburg.com
Hours:
Monday – Saturday: 10 A.M – 5 P.M
The store is open.  Please drop by!
Please drop by the shop and see what's new, and follow Stitch Middleburg on Facebook!